When you're dealing with investment property, adding value
can be a balancing act. One that
requires a lot of fine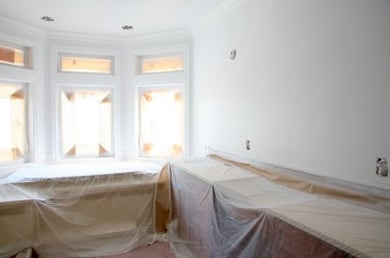 tuning, especially because you have overhead and
expenses to consider such as property taxes, hiring a Michigan property
manager, landscaping, maintenance and updates, marketing and more.
There's a lot you can do to improve the value
of your property to command more rent or attract a better sale price, but it's
also about making the numbers work.
Invest too much and you can push the value beyond the local limits -
effectively making the house unattainable.
While homes typically appreciate over time for a variety of
reasons, you can also directly control the value on rental properties by
putting work into the home. Even slight
touch-ups can dramatically increase the appeal and make your property stand out
over others. When investment property
attracts interest, you can charge more rent and it's easier for your property
manager to find quality tenants.
Steps to Consider Before Updating Investment Property
Before you actually start any work - even before planning -
you need to get in touch with a local property manager in Michigan like
JMZ. We can help you determine what
tenants are looking for, what types of homes rent quickly, and at what rates. Some features are in high demand, such as
protected properties with alarm systems, dishwashers, central air, etc. Some improvements can pay for themselves quickly
while others may take a longer investment to pay off.
A good property manager can advise you on what amenities and
updates will appeal to tenants in the area, and which ones can be a turn-off.
Bring in the Professionals
A property manager is a good place to start, but if you're
going to invest more than a few thousand for updates and renovation then get
the help of a designer. This way you're
keyed into which updates have the most visual (and functional) impact on the
home - and how to do it cheaply.
Curb Appeal - Start outside, because this is where you'll
make your first impression with tenants.
A lot of good tenants take pride in their home and they don't want
people to look down on them for the condition of their property. Update the landscaping, trim trees, tend the
grass and keep it lush, replace the mail box, update the numbers on the home
and paint the exterior as needed.
Don't forget about the curtain on the inside as these can be
seen from the street. Good curtains are
also important because if you can block the majority of the light you'll keep
your carpet and wood floors from fading prematurely due to harmful UV rays.
Keeping the Home Clean - Never overlook cleanliness when
you're between tenants. Avoid shortcuts
to get a space ready for renting. You
want to immediately deal with stains, mold issues, carpet cleaning, paint touch
up, appliance cleaning and repair, sanitizing and more. If you're limited on time, then pay a
professional or bring in a Michigan property manager who can make the space
look like new.
The Kitchen and Bath - These two rooms attract the most
attention in a home, but they can be expensive to improve. Keep these rooms clean to avoid expensive
remodeling. Try to use longer-lasting
materials to reduce yearly maintenance at tenant turnover.
Security - You can make tenants feel safer and more
comfortable in a home by adding additional security. If you're not sure what to use, talk with a
property manager to see if they recommend certain locks or an alarm company for
monitoring the property.
Lastly, don't set prices and walk away. Keep up on market trends to make sure that
you're charging fair rates for your property - rates that are representative of
the current local market as well as the condition of your rental property. If you feel like your numbers are still off
then contact us, we'll be happy to review your current situation and help you
set a rental rate that meets the expectations of your ideal tenant.