Are you thinking about hiring a property management company to assist with your rental investments? We may be biased, but we think it's a great idea.
At first blush, it's fairly clear how a property manager can reduce the stress involved with property maintenance, though it may seem an unnecessary expense that will reduce the profitability of your units. However, it's worth considering the ways that this decision can save a landlord money in relation to the cost of the management services, which are usually only 10-12% of the monthly rent.
One of the significant costs that every landlord encounters is property maintenance and repairs. If you are working without a property manager, you are likely contacting multiple different contractors to help with your investment, or trying to juggle the minor repairs yourself without the expertise of an experienced professional.
You may have a company that repairs the furnace, another that unclogs a stubborn drain, and someone to clean the carpets between tenants, etc., etc., etc. Not only does it get confusing, but it also becomes costly. This doesn't even consider those surprise expenses that pop up when a pipe bursts, the heater breaks down, or a hailstorm takes out some windows.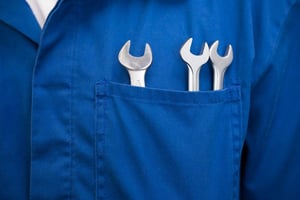 Property managers have a team of already vetted vendors that are trustworthy, timely, and cost-efficient. Furthermore, many of these services are handled by their staff who are always on call, reducing your costs by managing the more minor issues in-house. Ultimately, employing a property manager can help you achieve a volume discount that you are unlikely to enjoy on your own. Additionally, these relationships that property managers have developed with contractors often mean higher quality repairs, which avoid opening you up to violating your responsibilities as a landlord.
Perhaps the most important thing to consider is how a Farmington Hills property manager can save you money during a property turn. They will address the struggles of cleaning and upgrading your unit, returning it to a rentable condition. All the while, their staff will be searching for new tenants to move in as soon as possible. Lost rent is never desirable, and a property manager will minimize this outcome.
Experienced property managers employ the best technology and methods to attract quality applicants. There are people in-house that are trained to put applicants through a strict vetting process to identify potentially troublesome tenants quickly and efficiently. Not only does this save you the expense of multiple background screenings, but it can also help to avoid pitfalls caused by late rent or damaged property in the future.
In the short-term, a property manager may seem like a luxury expense. However, particularly as you continue to grow your rental investment portfolio, it becomes easy to see how such a relationship can help you maximize your income stream. All the while, freeing up much of your precious free time, to enjoy the fruits of your investments.
If you want to do-it-yourself, we have tools to help! Click the link below to download our free Make-Ready Checklist to get your property prepared for your next tenant.