If you've had your ear to the ground with the Metro-Detroit
real estate market then you know that interest rates and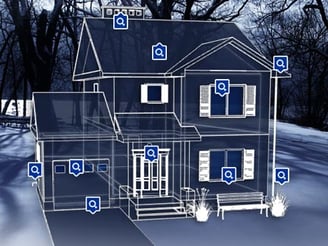 home prices have
dipped into record lows. This presents
interested investors with a unique opportunity to jump into the real estate
game to turn over housing or invest in rental properties.
While the idea is sound for many, there are some important
things to consider when investing in metro-Detroit real estate. Above all else, it's never as simple as
owning a property and filling it with tenants while you collect rent. There's a lot of work in property management,
which is why so many property owners and investors turn to a property manager
in Metro-Detroit to manage the routine tasks and maintenance.
Without proper planning, like consideration for a property
manager, you could wind up biting off more than you can chew with just a single
property – especially if you don't do your research into the market and
neighborhood first.
To avoid some of the common pitfalls and to make truly smart
investments in Metro-Detroit real estate, here are two things to consider above
all else.
1. Work with a knowledgeable buyer's agent.
Even if you're a seasoned pro with Metro-Detroit real estate,
having a buyer's agent on your side is one of the best decisions you can
make. Not all agents are the same so you'll
want to speak with several in order to find one you're comfortable with.
Take some time to get to know the potential agent to ensure
that they know the market, they're experienced in Metro-Detroit real estate
investment, they're someone you can work with and their most interested in
helping you prosper. The best buyer's
agents don't just rely on the MLS in order to find properties. They network with local developers and other
property owners so they're in the know on properties that are ready to turn
over or that off-listing.
This is where you can find the real gems. The last thing you want is to try to stumble
through an unknown market on your own or hook up with a bad buyer's agent. That can lead to a long and painful buying
process that costs you more money than you need to invest up front.
2. Working with a quality property manager
If you're moving forward with Metro-Detroit real estate
investment then it cannot be stressed enough how important it is to find a
reliable property manager in Oakland county and Wayne county. The right property management company can
monitor your property, provide all the necessary maintenance, find quality
tenants and screen applicants, handle the payment processing and more. It can be a hands-free solution with the right
property manager.
Properties are not managed solely to generate income in the
short term. Instead, a property manager
helps to improve the value of your assets.
With the right property manager, your investments will thrive in the
long term. To put it simply: As an owner/investor, it makes more sense to
trust in a professional property manager to handle the property while you build
money making properties and focus on the business – as opposed to fixing leaky
toilets and busted pipes at 2am.